Gas & Propane Stoves – We Carry The Highest Quality Products!
Visit Our Showroom Today! Our Experts Can Guide You In Picking Your Perfect Gas Stoves.
Beautifully Designed Stoves & Extremely Efficient
Enviro S30
Description: Similar to the S20, The Enviro S30 gas stove provides 20,000 BTUs, heats spaces up to 1,100 sq. ft., and has an efficiency rating of 74.5% A slightly taller & wider unit than the S20, the S30 has a 345 sq. in. viewing area. Side panel colors come in either painted black or modern gray.
Enviro Westport Steel
Description: This freestanding stove has clean lines and a simple design, and is constructed of a metallic black painted steel. But perhaps its most defining feature is the large viewing window. With the Westport Steel gas stove, you'll enjoy gorgeous fire, night after night, without worrying about emissions or buying, storing, and stacking firewood. Maintenance and operation is simple, but with the realistic-looking ceramic log set, you may have a hard time convincing your guests this is a gas stove and not a wood stove.
Enviro Westport Cast
Description:
The cast iron Westport from Enviro really does light up the room by allowing the glow of the fire to shine through its doors. It's a direct vent stove, which means you don't have to worry about fumes, competing air, or any other problems that can be common with other gas appliances, and its battery powered ignition system makes startup easy. 
Enviro S40
Description: The clean, yet classic look of the S40 makes it a perfect fit for just about every space, regardless of design or style. Like many of the Enviro freestanding stoves, this stove has a large viewing area and an incredibly realistic and appealing fire. Plus, it features a clear view safety screen, so you don't have to worry about pets and small hands getting hurt.
Enviro Berkeley
Description: The Berkeley is an elegant, tasteful stove with viewing windows on three sides. It has an efficiency rating of 70.8% and provides 40,000 BTUs, heating spaces up to 2,000 sq. ft. in size. Whether you have a contemporary living room, a cozy library, or a man cave in mind, this stove is sure to fit the bill. Pour yourself a glass of scotch and relax — the stove will do the rest.
Waitsfield DX by Hearthstone
Description: The Waitsfield DX has an elegant and charming look to it, and is available in multiple different color options for a customized finish. Choose from barn red enamel, basil enamel, brown enamel, and matte black. This small but mighty stove has the ability to heat spaces up to 1,800 sq. ft. in size, and carries a 77.4% efficiency rate. It's a direct vent stove, and it has a top flue exit.
Bristol DX by Hearthstone
Description: The Bristol DX is essentially a smaller version of the Waitsfield, and features the same attractive look and three-sided glass view of the fire. This attractive direct vent gas stove heats up to 1,400 sq. ft. and maintains an efficiency level of 73.2%. The flames and logs are beautiful, the flame pattern is realistic, the convection blower evenly distributes heat, and the smart remote control makes enjoying the warmth and charm of this stove simple and effortless. Available in three different finishes (Basil Enamel, Majolica Brown Enamel, and Matte Black).
Champlain by Hearthstone
The Champlain is a direct vent gas stove that makes a great zone heater. It features a themostatic, programmable remote control and can keep your favorite living space comfortable and stylish, without asking anything of you. Choose from matte black or brown enamel, and make your favorite room even better.
Stowe by Hearthstone
Description:The Stowe is a smaller version of the Champlain and makes it possible for you to enjoy that same great style and efficient heat in a smaller space. Choose between matte black, oyster enamel, and brown enamel — you can't lose.
Berkshire™ Bay Window by Lopi
Description: The Berkshire™ Bay Window is the perfect gas stove for heating medium spaces/family rooms. Reaching up to 31,000 BTUs and featuring an Ember-Fyre Burner, the Bay Window can heat up to 1,500 sq. ft. and comes in either New Iron, Bronze Patina, or Brown Enamel finishes.
Cypress™ Bay Window by Lopi
Description: Made from premium steel, the Cypress™ Bay Window is an ideal gas stove for large spaces that can heat up to 2,000 sq. ft., providing both radiant and convective heat to your home. It also features a wireless GreenSmart® Remote, giving you control of your unit's heat output.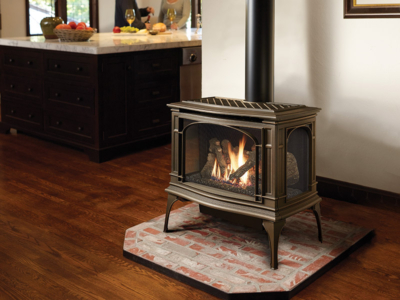 Greenfield™ Bay Window by Lopi
Description: Have a lot of square feet you need to heat? Producing up to 40,000 BTUs, The Greenfield™ Bay Window is perfect for large gathering places such as an open-room concept living room and can heat up to 2,000 square feet.
Ask Us About 18 Months No Interest Financing
& About Financing to Fit Your Budget
*Subject to credit Approval
See Something You Like? Call Or Visit Us Today!